Meet our newest responsive Premium WordPress Theme Cocoa. Cocoa is a minimal blog theme with a modern design and elegant typography style options. Therefore Cocoa is a perfect little blog theme for ambitious bloggers and lovers of minimal design and typography. Next to the options for designing and optimizing typography you can you can also nicely present images with Cocoa, since the theme design is very open and offers lots of white space to show your images in a high-quality, minimal way.
Header and Footer Widget Areas
A special theme highlight in the Cocoa theme are the two big widget areas in the themes footer and in an header overlay area. The modern header overlay feature offers lots of space, so you can include widgets like the custom Cocoa About widget and let your readers know about little bit more about you and your blog. Cocoa also comes with a beautiful, custom Social Links widget, a big Quote widget and a Recent Post by Category widget.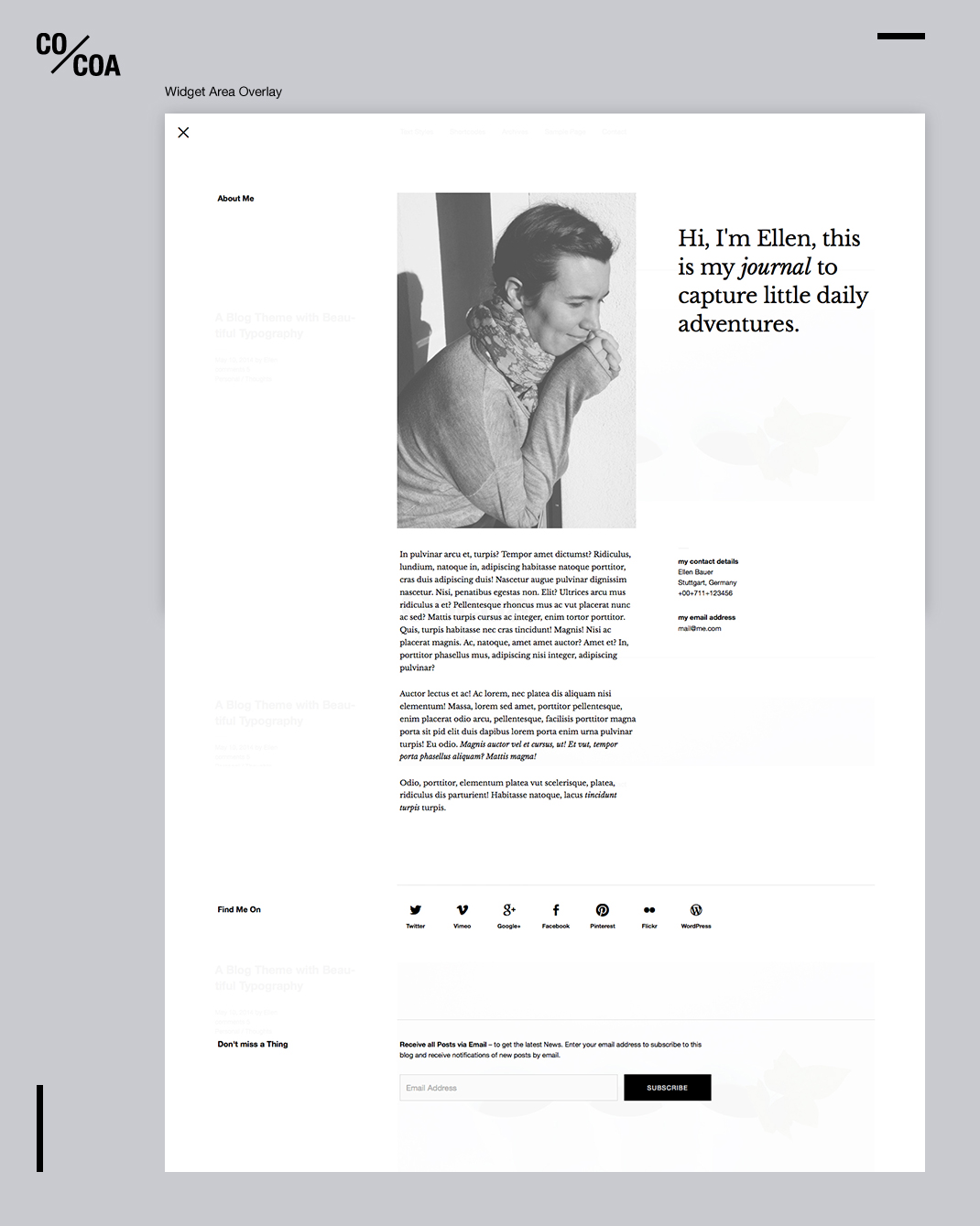 Additionally Cocoa also offers a widget area in the footer, so you can add further widgets below your blog posts.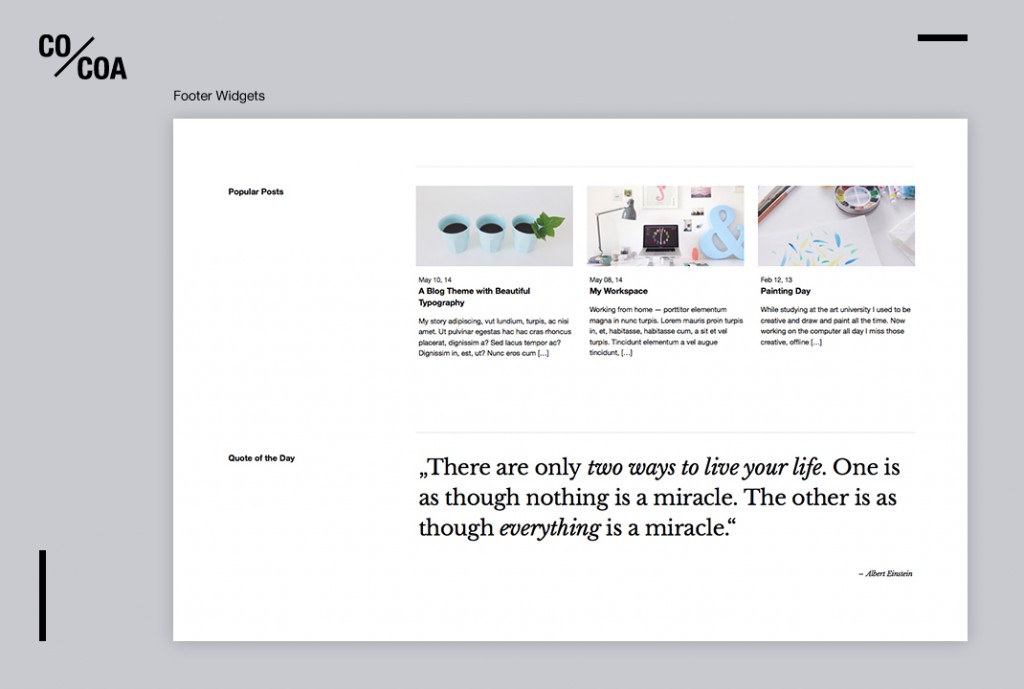 Typography Options and Post Formats
To present your content in the most beautiful way, you can use a number of typography layout options in the Cocoa theme. You can include text in the default one- or a two-column layout, add dropcaps, pull quotes, regular quotes, lists, add extra wide content areas or include sidenotes to your pages. You can get an overview of the Cocoa typography options on the Cocoa Text Styles page.
You can also use the following WordPress post formats to style your content and be able to publish smaller posts like quotes, status updates or side notes: Quote, Status, Aside, Link, Video, Image.
Theme Customizations
Of course you can also customize the Cocoa theme in the Customizer (under Appearance / Customize) and change your text link color, the background color (under Design / Background) or add your own logo or header image (under Appearance / Header with the maximum width of 1194px). You can also customize the footer credit text under Appearance / Customize / Theme.
Archiv Page-Template and Search Results
In order to make Cocoa a really high-quality blog theme we also created a custom Archive page template that you can set up on a new page choosing the "Archive" page template under Page Attributes. So your readers will be able to browser your blog posts easily and find the content they are looking for.
We also designed an alternative three-clumn post layout for search results and archive pages, so that search results will be more clearly presented.
Live Demo and Theme Page
We hope you really like our newest Elmastudio theme Cocoa and you are already excited to use Cocoa for your blog or maybe even start a new blog with the Cocoa theme. We are looking forward to your feedback, possible bug reports and your suggestions for theme improvements on the Cocoa Theme Page.